The Barricade sat down with the Polish lawyer and activist Beata Siemieniako about the criminal injustice of the so called reprivatization process in Poland. She wrote about her experience in the field of organizing social resistance against it in the book she recently published Reprivatizing Poland.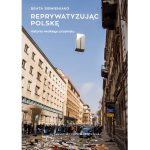 On the one hand this has been pure and simple theft of spectacular proportions going on for the last three decades. It is so vast that it is even difficult to create a proper statistical compilation. What we know is that billions of zlotys (Polish currency) are involved and hundreds of thousands of people became victims of it. One activist Jolanta Brzeska was even murdered. On the other hand however this pretty much a neo-liberal dystopia being installed by rampant take over of publicly owned buildings and large areas in urban centers.

"For us it might be theft or injustice, but very little people perceive it that way. The political class is mostly composed of conservative politicians who think it's reinstating of justice or reverting communism. It's ridiculous but that's how it is. Cities give up schools, hospitals and houses and it's explained to be legally just and morally not only OK but desirable. And nothing changed this attitude, even after the murder of Jolanta Brzeska. It's only quite recently that it made it to the headlines when someone was allowed to take over a small piece of land in the very center of Warsaw, right next to the Palace of Culture. Otherwise everybody at the top are fine with this and this process continues. Every day, every hour, as we speak" – concluded Beata Siemieniako.
See the whole interview in the video file below.