An interview with Kamran Baradaran, an Iranian translator of Slavoj Žižek.
In a world of capital words easily become cliche-ridden and therefore devoid of power to change anything. Whom should we rely on to challenge the status-quo?
Kamran Baradaran – an Iranian translator of Slavoj Žižek, seems to have found inspiration in his own quest for free thought. He developed a personal acquaintance with the Slovenian philosopher, whom he interviewed a few times and whose books he got translated into Persian. Now Kamran joins Vladimir Mitev in a discussion about Žižek, Iranians and the West. What makes Žižek appealing to Iranians and to Kamran specifically? How can Žižek contribute to understanding the specific situation – intellectual and geopolitical – in Iran? In what does the subversive power of Žižek lie? 
Kamran explains all that and also shares a few political jokes with the Romanian left-wing writer Panait Istrati and the Russian cosmonaut Yurii Gagarin as characters. Žižek is a master in mixing the high realms of philosophy with earthly self-deprecating humour. As seen from this interview, Kamran has also been developing that tradition. 
Photo: (source: The Barricade)
The Barricade is an independent platform, which is supported financially by its readers. If you have enjoyed reading this article, support The Barricade's existence! See how you can help – here! Also, you can subscribe to our Patreon page.
The Barricade also has a booming Telegram channel, a Twitter account and a YouTube channel, where all the podcasts are hosted. It can also be followed in Rumble, Spotify, SoundCloud and Instagram.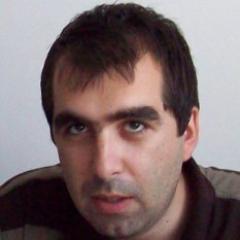 Vladimir Mitev is a Bulgarian-Romanian journalist based in Rousse, a town on the very border between the two countries. He is the editor-in-chief of the Romanian website BARICADA Romania, which initially started as a Romanian language version of the Bulgarian portal by the same name. He focuses on international politics. He has worked for the Bulgarian weekly "Tema" until its closure in 2015. He founded the bilingual Romanian-Bulgarian blog "The Bridge of Friendship". His articles and translations have been published by the BGNES agency, the magazines of A-specto and Economy, the blog of "Solidary Bulgaria" and others. His articles and interviews have appeared in the Romanian magazines Decât o Revista, 22 and Q Magazine, in the Romanian cultural magazines of Vatra and Poesis, and in the Romanian left-wing portal Critic Atac. At present, he makes a Ph.D. research on new Iranian literature before the Islamic Revolution at the University of Sofia. Starting from June 2020 he develops in English, Romanian, Bulgarian and other languages the blog "The Persian bridge of Friendship", which deals with the Persian-speaking world.