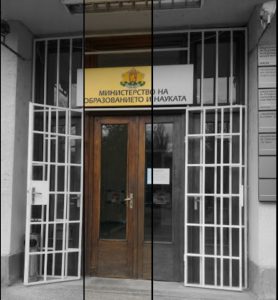 Another landmine is about to set off in the education system because of the new education law. Parents, teachers and school principals are in a state of shock, as the new school network creates an absurd and unexpected problem – it is not clear how thousands of Bulgarian children will graduate from high school. Seemingly the five years, during which the law was contemplated, discussed, drafted, corrected, re-drafted and eventually adopted, were not enough and there's a huge hole in it.
The new law changed the educational and school structure radically. Middle school now finishes after 7th grade and not 8th, as it was until now. And high school has been split in two stages – up to 10th grade and up to 12th grade. Diplomas are issued only after completion of the final stage, while the intermediate level serves for obtaining basic professional skills and a driver's license (driving rights will be granted after 2022). Because of the new educational structure a new type of school was introduced – a unified one, which is to take care of children from 8th to 10th grade. And now we arrive at the problem – where will all those children, enrolled in the unified school, continue their education until 12th grade. This is not specified in the law, there is no ordinance or any other document with details on their future after 10th grade. There are 56 unified schools in Bulgaria, they opened their doors this fall and that's why the problem unexpectedly became pressing all of a sudden. It is unclear for absolutely every child, enrolled in such a school, where will he/she study in the 12th grade, i.e. how will he/she get a diploma. And without a high school diploma there is no higher education either. A planned admission for them after the 10th grade should have been provided for in the law – for instance to be enrolled in "regular" high schools, to ensure the required places and so on. And all this should have been arranged according to their educational profile so far. But this possibility is not considered in any of the regulatory documents. How can you know, if there isn't any information?
A teacher from a unified school, on conditions of anonymity, explained this to the jouranlists of Барикада (The Baricade):
"People come to enroll their kids with us, but before that they ask what will happen after 10th grade, where will they continue. We don't know what to tell them, we can only shrug. We ask the regional inspectorate, they don't know either. We ask further up the chain, they also don't know. An absurd situation."
In fact those 56 unified schools are former middle schools, mostly from villages. They were transformed up to 10th grade, so that they could survive by enrolling more students. But it is precisely the lack of clarity about the children's future that deters parents from sending their kids in them. So they enroll them in high schools where education runs from 8th to 12th grade, i.e. they are a better "offer" for families.
"You don't know what it was like… There was huge pressure from the inspectorate to not become a unified school, to remain a middle one… They pressured us, because we are competing with high schools for students. And high school principals are more influential", the teacher also shared.
This whole problem has, of course, lit up a light bulb in the heads of the "smart people" at the Ministry of Education. The Ministry's expert Lazar Dodev said in June before the 24 часа (24 Hours) newspaper that kids can continue after 10th grade within their selected profile "if there are places". What if there aren't? What if there are places, but not for this profile? What if there are, but not for everyone? Those are the questions – without an answer – that parents ask today when enrolling or thinking of enrolling their children in unified schools. The situation is beyond absurd.
For each such problem the Ministry of Education has a standard answer – the law wasn't written by them, but by Parliament. And they are right. The law was discussed in no less than three parliaments, millions were spent on discussions and "expertise", but in the end a number of flaws remained – it created chaos regarding the commuting expenses of teachers, it also created huge problems for middle schools and so on. Its last modifications were supervised by Milena Damyanova (GERB). But this shouldn't be a partisan issue. The end product is bad, the damage is the most precious – the children.