After a heated debate about possible unification with Romania, another political scandal rocked Moldova a few months before parliamentary elections. At the end of the day, however, it proved mainly the weakness of local opposition and lack of any force that could genuinely lead the citizens to combat the oligarchic rule of the country.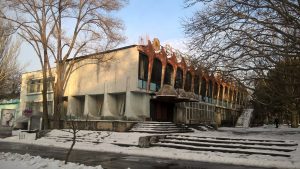 On 19th of June, the city court in Chisinau declared the results of snap mayoral elections in the Moldovan capital null and void, thus annulling the suprising victory of Andrei Nastase, leader of Dignity and Truth Platform (Demnitate si Adevar, DA). A week later, the verdict was maintained by the Supreme Court. Officially, Nastase had been excluded from the race for having broken the election silence in social media, by posting messages rallying the citizens to come and vote. According to the courts, the same breach had been committed by his opponent Ion Ceban, representing Party of Socialists of Republic of Moldova, who emerged victorious from the first round, but lost the final battle. It is no surprise to say that this absurd justification was nothing but a pretext.
The Moldovan Supreme Court has long been controlled by men selected personally by the most powerful businessman in Moldova, Vladimir Plahotniuc, just like he controls government, the media and key state entreprises.
And it was no one else than him who decided that neither Nastase was not to be allowed to act as head of the key city in Moldova, nor the post could be given to a Socialist. Plahotniuc's own favourite, Silvia Radu, officially an independent manager, has come only third.
– The oligarch has crossed all red lines! He broke essential democratic rules! – cried out the pro-European opposition forces who supported Nastase and called on to protest the verdict in the streets. In fact, there had already been equally absurd rulings in recent history of Moldovan courts. One example – last autumn the Constitutional Court decided that the president should be declared unable of performing his duties for a few hours, so that the acting head of state would be able to swear in a minister of defence whose nomination had been fiercely criticized by Dodon. At that time, though, neither Nastase with his DA Platform, nor Maia Sandu and her pro-European, liberal Party of Action and Solidarity (PAS) did not utter a word. With Chisinau elections, the situation was totally different.
Not that the 'defenders of democracy' actually had a rescue program for a ruined, half-destroyed city where one third of Moldovans resides.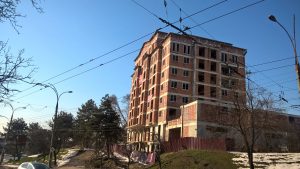 2019 is the year of parliamentary elections and Nastase hoped that advancing to the top post in the capital would allow him to emerge as the fresh and succesful leader of 'genuine pro-European camp', ready to substitute the false 'liberal Europeans' of Plahotniuc, but also surpass Maia Sandu, who may head the biggest pro-European opposition organization, but who lost her electoral battle against Igor Dodon in 2016. As for the ambitious Sandu, who has supported Nastase in Chisinau, she may have had two scenarios in mind. If Nastase remained popular up to the parliamentary elections, her party, as his natural ally, would also profit from that. Had he turned out ineffective instead, she would have easily portrayed him as 'traitor' who 'sold himself' to the oligarchy (or, more mildly, who had good intentions but no strong will to fight Plahotniuc) and concentrate all forces adhering to DA platform in her party. The verdict to keep the capital under temporary rule of people directly linked to previous administration (and so to Democratic Party of Plahotniuc), however, threw all these calculations out of the window.
Calling people to the streets, the 'real Europeans' seem to have hoped for a quick reprise of 2009 protests in Chisinau.
These events led to fundamental change in Moldovan political life, removing the Communist party from power and starting the still-ongoing rule of pro-Western, liberal and democratic forces (being, though, just as democratic and liberal as the Moldovan Communists have actually adhered to Marxist-Leninist credo). They believed that the outrage after the court's ruling would be strong enough to gain EU's backing for removal of the current 'pro-European alliance', especially when the 'genuine Europeans' cannot wait to take their place. In past few weeks, Maia Sandu was equally active in Chisinau and abroad, embarking on a series of meetings with European leaders. Nevertheless, she seems to have gained little more than conventional expressions of concerns about Moldovan political life.

The EU politicians may have condemned the cancellation of Chisinau elections, but they still tend to believe that destabilizing Moldovan political life by hitting Plahotniuc's team is highly undesirable, as the ultimate victory of pro-European forces in this divided country is never 100% sure. Especially now, when a fair share of the society is absolutely disappointed with 'marching towards Europe' and does not exclude (or even enthusiastically supports) some form of co-operation with Russia. So, Bruxelles, prefers to press on Moldova by suspending financial support, which is definitely a blow for the oligarchy-controlled business and state companies.
Even worse for Nastase and Sandu, the developments in the streets proved not their 'enormous popularity', but rather the general weakness of liberal branch of opposition even in the capital, where the majority of their supporters is located. By the end of June and at the beginning of July, they were able to mobilise a few thousands marchers, which cannot be labelled as success, as Moldova saw already bigger crowds over last few years. There was no 'general protest' against 'unprecedented violations of democracy'. Although the liberals keep calling for further protests (another one is scheduled for 19 July, and then 24 August), it is hardly probable that the number of people attending would be greater than during the first manifestations two weeks ago.

And the explanation goes beyond the liberal commentators' lament over 'low democratic conscience'. Over the years, when the oligarchy stole away the country's assets, effectively turning the republic into a failed state, forcing people to emigrate or deal with horrible level of unemployment, lack of quality communal services or healthcare, the country was… praised by European and American leaders for making great progress in all possible fields. And this happened even during mass protests against Plahotniuc in Chisinau! One cannot seriously blame the Moldovans for not willing to fight for abstract 'democracy rules'. Secondly, one should not be surprised with the lack of trust in these particular leaders.
Maia Sandu served as Minister of Education in three consecutive 'pro-European' governments, applying well the neoliberal view on education she learned while studying economy in the US. The author of this text had an opportunity to talk about this politician to ordinary people of Gagauzia, the southern part of Moldova dominated by Gagauz and Bulgarian, Russian-speaking minorities, in 2016. Sandu was universally known as 'lady who closed schools' and 'wanted to force us to speak Romanian at home'. Although this view is not universally shared in Chisinau, Sandu's stronghold, it cannot be totally absent from the capital as well. As a minister, Sandu belonged to Liberal-Democratic Party headed by Vlad Filat, another oligarch and former Plahotniuc's ally, finally removed from power and sent to prison for corruption. Not a perfect credential, right?
Furthermore, Sandu's links to now hardly surviving Liberal Democrats are not only matter of past. The party is listed among organizers of the upcoming protests in Chisinau, just as if anyone would believe they were actually anti-oligarchic fighters.
As for Nastase, his integrity as 'true alternative to the oligarchs' has also been questioned by journalists who linked him to yet another business tycoons, Viorel and Victor Țopa, corruption schemes around Chisinau airport and whole series of unclear transations with offshore companies. And even his extremely short tenure as elected mayor of Chisinau brought new doubts – to the local activists' great disappointment, he did not risk to stop the demolition of Gaudeamus cinema, which, according to defenders of the disappearing historical architecture of Chisinau, had been approved within another dark scheme involving former mayor's team. Furthermore, certain members' of this team re-appeared in 'brand new administration' and Nastase did not seem really bothered by the fact that his candidacy was supported, in the final round, by no one else than the corrupt former mayor Dorin Chirtoaca himself.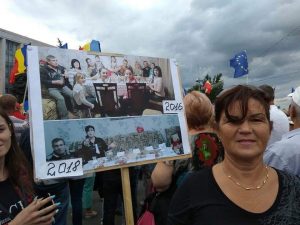 This doubtful face of Moldovan pro-European opposition explains why they did not even try to rally people around the only slogans that might have attracted any positive response. Accustomed to empty debates about symbols, language, history and to giving vague promises, they did not even think what actually bothered the citizens and what would make them feel a change. They even did not think that Nastase, as a mayor, would have to solve out different problems than geopolitics. He would have to face local corruption schemes, try to create a housing policy, tackle the problems of devastated city transport, awful state of roads, parks and communal services… This is what people of Chisinau wanted from him.
And during the protest there was an obvious demand for leaders who would show interest in actual everyday struggles of Moldovan citizens.
It was clearly seen in the pictures of entire families leaving Moldova for work abroad, that were brought to the demonstrations. However, those who organized the protests could only respond with a well-known set of complaints and promises about violated democracy and bright European future soon-to-come. While the future, actually, with such opposition in the country and such reactions from outside, seems brightest to the oligarchs.